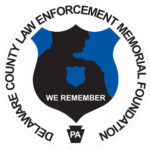 The next meeting for the DCLEMF is scheduled for
Wednesday
November 11, 2020 at 7pm.
at
The Springfield Twp. Building
"This meeting will follow social distancing guild lines with masks!"
Topics: Motorcycle Run debrief, Elections, Ordinary Business
All law enforcement and survivors are encouraged to attend.
Please try to attend.
"We Remember!"

PLEASE BE ADVISED
THAT DUE TO COVID-19,
our 2nd annual
SOFTBALL tournament
HAS BEEN POSTPONE TIL 2021.
We apologize!