The Delaware County Law Enforcement Memorial wall was made to honor and preserve the memories of Delaware County's fallen heroes and provide a place to forever remember their great sacrifice. The memorial foundation started in May 1998 with its first memorial service.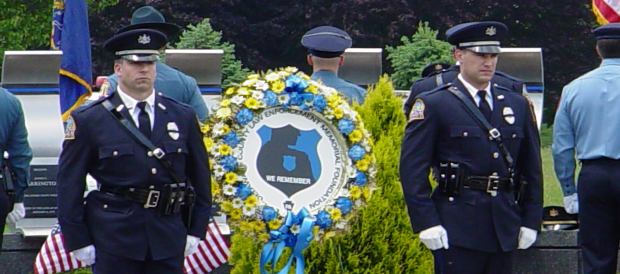 The Delaware County Law Enforcement Memorial wall was dedicated on May 16th 2002 with an estimated cost of $150,000 raised through private donations, fundraising, and volunteers.
* The Memorial wall is located at Rose Tree Park (Rt 252 in Upper Providence, Delaware County) next to the Hunt Club building*
 A  list of persons/organizations the DCLEMF would like to thank for their efforts in making the Law Enforcement Memorial Wall a reality.
Architect -Phil Conte
Counsel – Joe Chupein, Esq.
General Contractor – Exec.Dir. Ray Castaldi (deceased)
Suburban Contractors Association(SCA) http://www.thesca.net/
PO Box 237, Broomall , PA 19008
T.F. Sgro & Sons -Ted Sgro

Castaldi Construction – Ray Castoldi

Town Square Rentals -Steve DiLoreto
Suburban Materials Company-James Costello
Action Supply -Ernie Forlini

Galantino Supply -Carl Galantino

Garnett Valley Contractors -Dom Cappelli

A.Marinelli & Sons -Frank Marinelli

Norris Sales & Rentals -Don Zajac
Hanson Aggregates -Jack Parton
Nick Falcone & sons – Greg Falcone

Jim Castaldi Construction -Jim Castaldi

Martin Landscapers – Joe Martin Jr.

Independence Construction Materials, Inc -Dave Leggett

Glen Mills Sand & Gravel – Bruce Snyder

McDonalds Incorporated -Jack Niggeman

Fizzano Concrete Supply -Guy/Mike Fizzano
MSI Tool Repair & Supply -Mark Irvello

Home Depot – Upper Darby -Aalon Wyley
Home Depot – Ridley Twp – Scott Dalgarn
Fizzano Concrete Products – Guy Fizzano
Delaware County Park Board
Delmac Corporation – Jack Niggeman
Lenni Electric – Jim Hallman
Suburban Electric Supply – Bill McGroarty

MAB Paint Company – Jim McCall

Hardware Plus Inc (Ace) – Lou Muth
C Caramanico & Sons – Mike Caramanico

State Road Building Supply – Steve Finelli

Ceton Greenhouses – Jan Ceton
Thoro System Waterproofing Inc. – Wayne Pfaff
Cartledge-Gallagher-Stefan, Inc. – Lawrence Conroy

Sterling Specialty Fabricators, Inc –

Clothes Quarters

O'Leary Funeral Home – Bill & Tom O'Leary
Share this!